September 5, 2023 – Trailbreaker Resources Ltd. (TBK.V) ("Trailbreaker" or "the Company") is pleased to announce drill results from the recent 2,039-m first-pass diamond drill program at the Eakin Creek gold property in south-central British Columbia (BC) (see June 29, 2023 news release). Drilling returned gold-bearing intervals in all eleven drillholes, and successfully identified a bedrock source of the surface geochemical anomalies. Additional drilling is recommended in order to expand the known zones of mineralization.
Highlights
Gold-bearing mineralization was intersected in all eleven drill holes
Drilling intersected the bedrock source of the gold-bearing boulder-hosted surface geochemical anomaly comprised of silicified intermediate intrusive rocks
Highlights of the drill intersections include:

EC-23-02: 1.0 m of 14.3 g/t Au from 67.0 m
EC-23-01: 3.0 m of 2.42 g/t Au from 145.0 m, including 1.0 m of 4.94 g/t Au from 147.0 m
EC-23-05: 15.7 m of 0.32 g/t Au from 38.3 m, including 2.0 m of 1.50 g/t Au from 52.0 m
About Eakin Creek
The Eakin Creek property is located 100 kilometres north of Kamloops, BC and can be accessed via Highway #24 and by well-maintained forest service roads. The claims cover 1,610 hectares of prospective ground that drains into placer gold-bearing Eakin Creek.
The target was initially acquired due to: the historic 'G Occurrence' located on the highway in one of the few exposed outcroppings on the property; a field of gold-bearing boulder samples (inferred to be local), and a grouping of some of the highest gold-in-till values in BC from regional till sampling.
During 2022, Trailbreaker completed a 10.75 line-kilometre Induced Polarization (IP) survey, a 302-sample Mobile Metal Ion (MMI) soil survey, and a prospecting program. A 1,000 x 600-metre area was defined as having a gold-silver-copper-antimony (Au-Ag-Cu-Sb)  soil anomaly coincident with chargeability and resistivity anomalies. Also, widespread gold mineralization in bedrock and float samples was identified. The 2023 drill program was designed to comprehensively test this area.
Figure 1: Downhole assay results from maiden Eakin Creek drill program.
Drill Results
Drilling has successfully defined a widespread system of gold mineralization at the Eakin Creek property. Intervals returning anomalous gold values were encountered in all eleven drillholes.
Gold mineralization in drill core is associated with zones of silicified intermediate intrusive rocks hosting disseminated pyrite and quartz-carbonate-chlorite veins containing pyrite ± magnetite. Gold mineralization is strongly correlated with silver (Ag) and tellurium (Te). This style of mineralization is similar to that observed within "float" material at surface. It is therefore interpreted that drilling has encountered the bedrock source of the surface geochemical anomaly.
Gold mineralization was also found to be structurally associated, particularly with faulting. Zones of faulting, brittle deformation, and brecciation were found to be spatially associated with increased gold grades.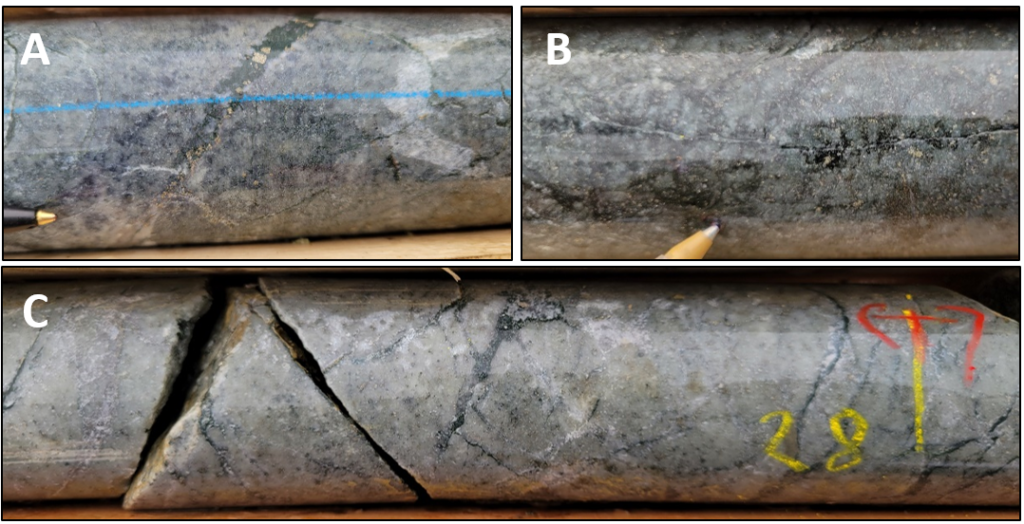 Figure 2: Close-up photographs of mineralized, silicified intermediate intrusive rocks with disseminated pyrite and quartz-carbonate-chlorite-pyrite veinlets. A) ~67.8 m in EC-23-02 from interval grading 1.0 m of 14.3 g/t Au from 67.0 m ; B) ~52.9 m in EC-23-05 from interval grading 2.0 m of 1.50 g/t Au from 52.0  m; C) ~28 m in EC-23-05 from interval grading 0.7 m of 2.01 g/t Au from 27.3 m.
Additional geological modelling will be undertaken to gain an improved three-dimensional understanding of the controls of gold mineralization and the distribution of gold, in order to improve targeting for high-grade gold mineralization such as that encountered in EC-23-02 (1.0 m of 14.3 g/t Au from 67.0 m), and for targeting of wider intervals of gold mineralization, such as EC-23-05 (15.7 m of 0.32 g/t Au from 38.3 m, including 2.0 m of 1.50 g/t Au, from 52.0 m).
Table 1: Summary of significant cDomposite assay results from Eakin Creek drilling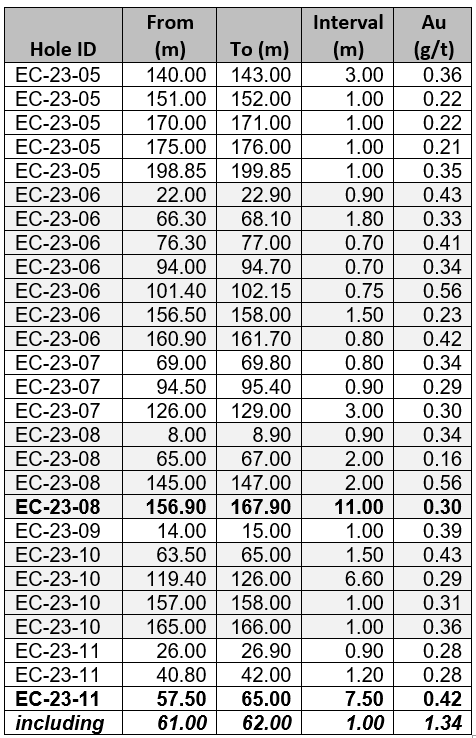 Quality Assurance/ Quality Control (QA/QC)
Drill core samples were cut in half using a core cutting saw on site at the Eakin Creek property. The resulting half-core samples were shipped via bonded courier to the Bureau Veritas Minerals (BV) analytical lab in Vancouver, BC, which is a certified and accredited laboratory (ISO 17025). Samples were prepared using industry-standard preparation methods, which involved crushing the entire sample until 70% passed through a 2 mm screen. A resulting 250 g split was pulverized to > 85% passing a 75-micron screen.  All samples were analysed using analytical process FA350 (50 g fire assay, ICP-ES finish) for gold (Au). Samples that returned values >200 ppb Au were also analysed by procedure AQ200 (0.5 g ICP ES/MS) for 37-element analysis. Gold values >10,000 ppb from FA350 analysis were re-analysed by the overlimit method of FA530 (30 g fire assay, gravimetric finish).
Trailbreaker inserted regular certified reference material (CRM) standards and blanks into the sample stream. Additionally, BV undertakes its own internal CRM standard, blank, and coarse and pulp-duplicate procedures to ensure proper sample preparation and equipment calibration. Review of all QA/QC data was undertaken by Trailbreaker to ensure that all results are accurate.
Batches containing sample intervals with potentially significant assay results, that also included CRM values outside of industry-standard acceptable ranges of three standard deviations from certified values, were re‑analysed to verify accuracy of results.
Message from the President
"With our first drill program at Eakin Creek, we have shown the presence of a wide-spread gold system based on strong fundamental geological principles. Drill-testing blind systems is always difficult. We have successfully intersected gold-bearing mineralized structures in every drillhole, locally returning significant grades. As well, we have gained valuable insight into the controls of gold mineralization at the Eakin Creek project, which will allow us to continue targeting higher grade mineralization within the system. These strong principles of exploration are what will aide us in continuing to advance our property portfolio, and to guide us towards potentially making the next big discovery."
ON BEHALF OF THE BOARD
Daithi Mac Gearailt
President and Chief Executive Officer
Carl Schulze, P. Geo., Consulting Geologist with Aurora Geosciences Ltd, is a qualified person as defined by National Instrument 43-101 for Trailbreaker's BC and Yukon exploration projects, and has reviewed and approved the technical information in this release.
Other
For new information about the Company's projects, please visit Trailbreaker's website at TrailbreakerResources.com and sign up to receive news. For further information, follow Trailbreaker's tweets at Twitter.com/TrailbreakerLtd, use the 'Contact' section of our website, or contact us at (604) 681-1820 or at info@trailbreakerresources.com.
Neither the TSX Venture Exchange nor its Regulation Services Provider (as that term is defined in the policies of the TSX Venture Exchange) accepts responsibility for the adequacy or accuracy of this release.
Forward-Looking Statements
Statements contained in this news release that are not historical facts are "forward-looking information" or "forward-looking statements" (collectively, "Forward-Looking Information") within the meaning of applicable Canadian securities legislation and the United States Private Securities Litigation Reform Act of 1995. Forward-Looking Information includes, but is not limited to, disclosure regarding possible events, conditions or financial performance that is based on assumptions about future economic conditions and courses of action; expectations regarding future exploration and drilling programs and receipt of related permitting. In certain cases, Forward-Looking Information can be identified by the use of words and phrases such as "anticipates", "expects", "understanding", "has agreed to" or variations of such words and phrases or statements that certain actions, events or results "would", "occur" or "be achieved".  Although Trailbreaker has attempted to identify important factors that could affect Trailbreaker and may cause actual actions, events or results to differ materially from those described in Forward-Looking Information, there may be other factors that cause actions, events or results not to be as anticipated, estimated or intended.  In making the forward-looking statements in this news release, if any, Trailbreaker has applied several material assumptions, including the assumption that general business and economic conditions will not change in a materially adverse manner.  There can be no assurance that Forward-Looking Information will prove to be accurate, as actual results and future events could differ materially from those anticipated in such statements.  Accordingly, readers should not place undue reliance on Forward-Looking Information.  Except as required by law, Trailbreaker does not assume any obligation to release publicly any revisions to Forward-Looking Information contained in this news release to reflect events or circumstances after the date hereof or to reflect the occurrence of unanticipated events.