July 11, 2023 – Trailbreaker Resources Ltd. (TBK.V) ("Trailbreaker" or "the Company") is pleased to announce that it has mobilized to the Golden Sable property in south-central British Columbia (BC) for its 2023 surficial exploration program. Efforts will be focused on extending the known 3-kilometre-long gold-in-soil anomaly that remains open to the southeast (see Figure 1 and May 29, 2023 news release).
The 2,568-hectare Golden Sable property is located 75 km northeast of Kamloops, BC, and 20 km south of Bridge Lake, BC. It is easily accessible via Highway 24 and the Bonaparte Forest Service Road. Golden Sable comprises two claim blocks, the Golden Sable (GS) East and GS West blocks, which are spaced 1.7 kilometres apart. The blocks are separated by ground held by a third party (see Figure 2).
The Golden Sable property covers an intrusion-related gold target. The claims lie within the Quesnel tectonic terrane that hosts many of British Columbia's active and past-producing gold mines. Middle to Upper Triassic Nicola Group volcanics and sedimentary rocks comprise the majority of the underlying bedrock geology. The property also straddles the margins of a large, early Jurassic hornblende-biotite granodiorite pluton with prevalent younger mafic and andesitic dikes.
From 2006 to 2013 Amarc Resources delineated the 3-kilometre-long soil anomaly on the GS West block, which was subsequently drill tested by Sable Resources in 2018.
The inaugural, 1,339-metre drill program conducted by Sable Resources on the GS West block encountered gold mineralization in 5 of 7 drill holes. Results include an intersection of 0.83 g/t gold over 24.0m, including 2.4 g/t gold over 4.0m. Gold mineralization was found to be associated with mafic and intermediate dike swarms trending northwest – southeast along the granitic contacts.
No follow-up drilling has been conducted to date, and the majority of the gold-in-soil anomaly remains untested. The recent construction of both firebreak and logging road networks since the 2018 drilling has exposed a significant amount of bedrock.  The 2023 exploration program will also include channel sampling on newly exposed outcrops where warranted, geological mapping, and prospecting.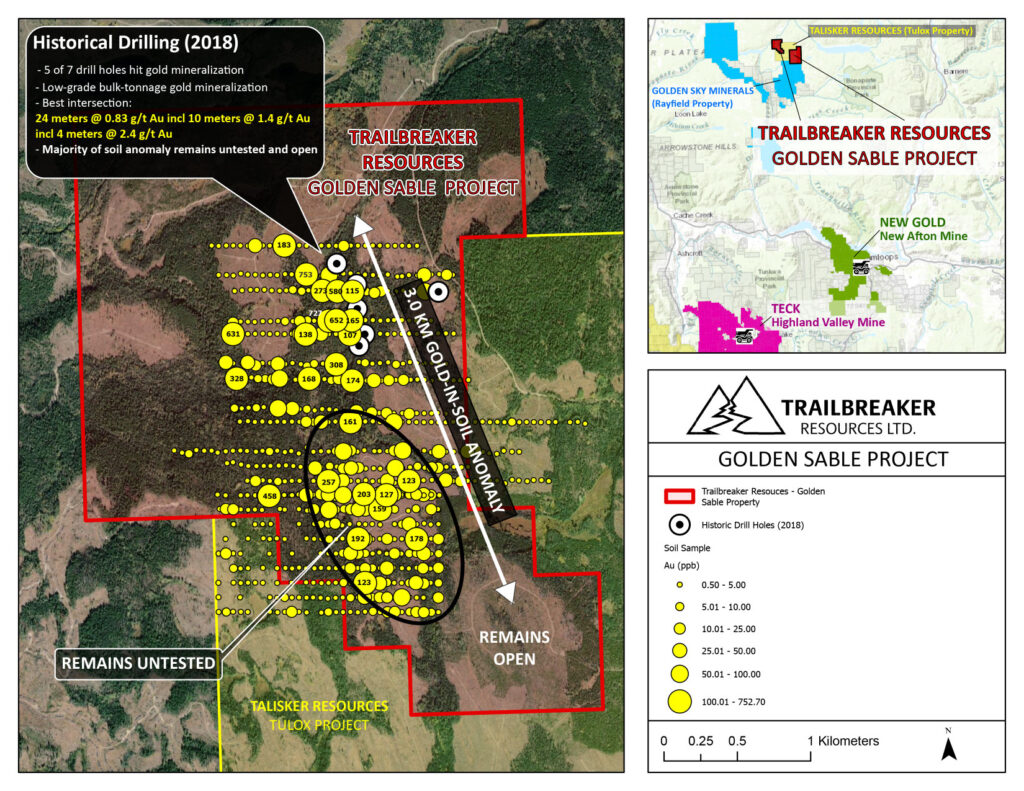 Figure 1: Geochemistry of the Golden Sable West block.
Figure 2: Location of the Golden Sable property.
ON BEHALF OF THE BOARD
Daithi Mac Gearailt
President and Chief Executive Officer
Carl Schulze, P. Geo., Consulting Geologist with Aurora Geosciences Ltd, is a qualified person as defined by National Instrument 43-101 for Trailbreaker's BC and Yukon exploration projects, and has reviewed and approved the technical information in this release.
OTHER
For new information about the Company's projects, please visit Trailbreaker's website at TrailbreakerResources.com and sign up to receive news. For further information, follow Trailbreaker's tweets at Twitter.com/TrailbreakerLtd, use the 'Contact' section of our website, or contact us at (604) 681-1820 or at info@trailbreakerresources.com.
Neither the TSX Venture Exchange nor its Regulation Services Provider (as that term is defined in the policies of the TSX Venture Exchange) accepts responsibility for the adequacy or accuracy of this release.
Forward-Looking Statements
Statements contained in this news release that are not historical facts are "forward-looking information" or "forward-looking statements" (collectively, "Forward-Looking Information") within the meaning of applicable Canadian securities legislation and the United States Private Securities Litigation Reform Act of 1995. Forward-Looking Information includes, but is not limited to, disclosure regarding possible events, conditions or financial performance that is based on assumptions about future economic conditions and courses of action; expectations regarding future exploration and drilling programs and receipt of related permitting. In certain cases, Forward-Looking Information can be identified by the use of words and phrases such as "anticipates", "expects", "understanding", "has agreed to" or variations of such words and phrases or statements that certain actions, events or results "would", "occur" or "be achieved".  Although Trailbreaker has attempted to identify important factors that could affect Trailbreaker and may cause actual actions, events or results to differ materially from those described in Forward-Looking Information, there may be other factors that cause actions, events or results not to be as anticipated, estimated or intended.  In making the forward-looking statements in this news release, if any, Trailbreaker has applied several material assumptions, including the assumption that general business and economic conditions will not change in a materially adverse manner.  There can be no assurance that Forward-Looking Information will prove to be accurate, as actual results and future events could differ materially from those anticipated in such statements.  Accordingly, readers should not place undue reliance on Forward-Looking Information.  Except as required by law, Trailbreaker does not assume any obligation to release publicly any revisions to Forward-Looking Information contained in this news release to reflect events or circumstances after the date hereof or to reflect the occurrence of unanticipated events.